Unity Yoga of Tri-Cities provides students with the space, guidance, and resources to develop a positive mind-body connection through yoga.  Beyond physical aspects of yoga, our classes and qualified instructors integrate breathing practices, deep relaxation and meditation to navigate our thoughts, emotions, and energy levels as they change over time.  Unity Yoga offers a variety of classes to fit your schedule, abilities, and individual wellness needs. 
Our Studio is located at 524 Lee Boulevard, in the Richland Parkway.
---
BEGINNER YOGA AND BEGINNER PILATES SERIES CLASSES NOW ENROLLING!

---
NEW YEAR'S EVE INTENTION CEREMONY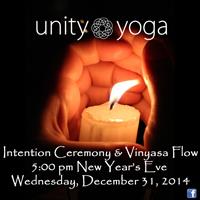 Wednesday, December 31, 2014: 5-7pm

Donation-based. See our Events page for details, or Register Here